Does it feel like work is draining you past empty? When work demands exceed resources you need to find a way to change something. The definition of Teacher Burnout has been one that was primarily believed to be a syndrome caused by prolonged exposure to interpersonal stressors on the job and characterized by:
Overwhelming exhaustion or a sense of depletion
Cynicism or detachment from the task of teaching
A feeling of lacking of accomplishment or a sense of ineffectiveness
But it is important to keep in mind the differences between work or job demands and resources. Job demands refer to physical, psychological, social, or organizational job traits that incur sustained physiological and/or psychological costs. This is in abject contrast to the resources that are defined as aspects of the job that facilitate the achievement of work goals, reduce the costs of job demands, or stimulate personal growth.
More recently, personal resources were added to the equation. These are characteristics or traits associated with resilience that help employees manage and cope with their environment.
"Teachers are turning to personal resources when their work resources fall short."

Aaron Jarrels
Examples of demands and resources:
Work Demands
Role ambiguity
Work overload
Unfavorable scheduling
Work/family conflict
Interpersonal conflict
Job insecurity
Inadequate pay
Hazards
Unfair treatment
Work Resources
Autonomy
Achievable challenges
Effective leadership
Task variety
Social support
Participative decision-making
Performance feedback
Recognition and rewards
Innovative environment
Good communication
Personal Resources
Intrinsic motivation
Optimism
Resilience
Confidence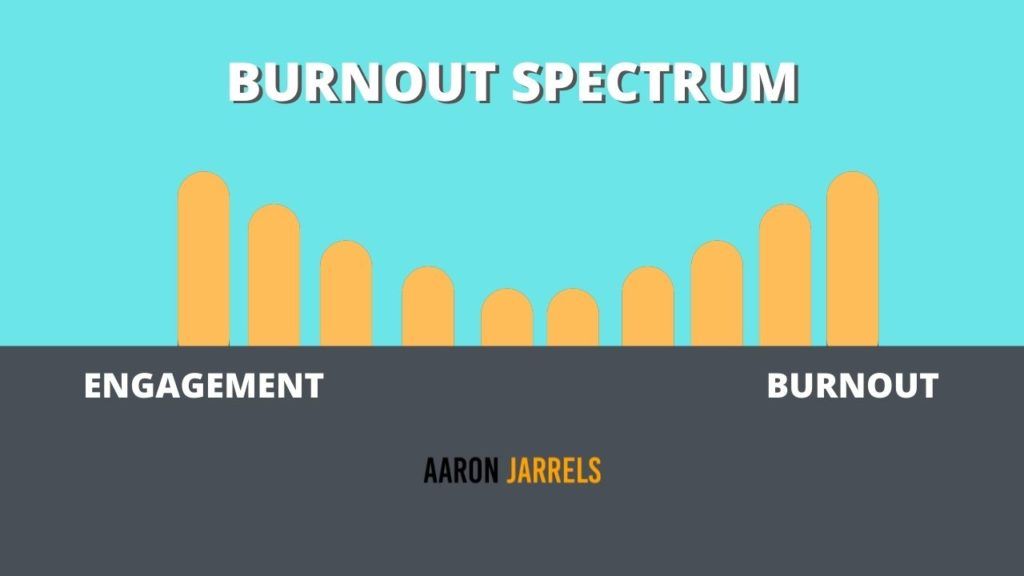 The Burnout Spectrum
The easiest way to think about what burnout is or to define it is to place it in a measurable state. I believe that burnout is not as simple as black and white. It isn't as simple as saying a teacher either has it or doesn't. As a college social psychology instructor and licensed therapist, I believe that burnout falls on a spectrum. I believe that on one end is Burnout and on the other is Engagement. They are essentially opposite, meaning you cannot burn brightly in your passion and experience burnout at the same time.
If you want to burn brightly in your passion for teaching again it will take a shift in your perception. It requires that you change your mind. I have developed the RE:MIND non-workshop especially for this. Use the Coupon Code "insider" and save 40% right now off the regular price.
GET EXCLUSIVE MINDSET TIPS DELIVERED RIGHT TO YOUR INBOX!
Becoming a RE:MIND Insider is free and easy.
RE:MIND Insiders get exclusive content delivered directly to their inboxes. Be sure you never miss out on the insider tips that will change your mind allowing you to win faster and easier.